Boracay Events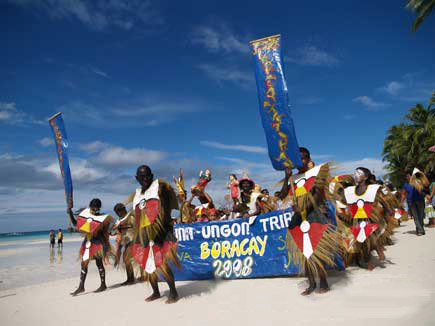 There are several Boracay events where tourists and locals can enjoy festivities and company. Year-round events are there for your enjoyment. Most of these yearly events occur during the high season when not only Boracay. So if you want to party and enjoy live music, schedule your visit for Christmas, New Year or the Holy Week (Easter).the many event sduring high season include the International Beach Volleyball, Soccer, Frisbee and Skimboard tournaments, Bikini and Muscle Man contests and the Paraw Regatta (a race for outrigger sail boats). The exact dates for many of these events are not decided until several months or weeks before they occur. Some seem to happen spontaneously! But there are some set annual events. Every 3rd Sunday of January , for example is the Ati-Atihan Festival, the annual celebration in honor of Santo Nino. This is Boracay's version of the famous Ati-Atihan Festival in Kalibo. The festival presents a picturesque scene as Filipinos, their bodies painted and some playing musical instruments, parade and dance in tribal groups along White Beach.
Also in January, during the second half of the month is another annual event. Since 1989 Boracay has been one leg of the Southeast Asia Funboard Cup for windsirfing enthusiasts. Held in the waters of Bulabog, on the eastern side of the island.
---
To return from Boracay Events to What to do in Boracay click here.