White Sand Beach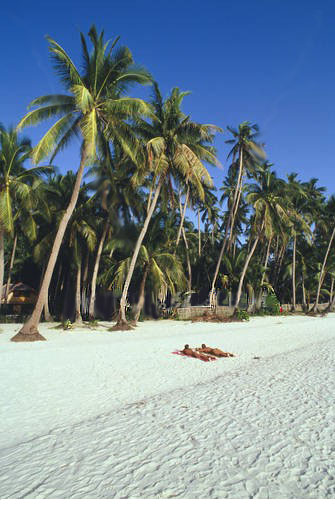 Taking up most of Boracay Island's west coast is Boracay's White Sand Beach. Being the premier beauty for tourists, it has made the island a globally renowned dream destination. This beach has been cited several times as one of the world's most popular beaches. This four kilometer stretch of beach is famous for its talcum-fine powdery sand and is fringed by tall palm trees. The white sand becomes more and more powdery as you stroll north along the beach, a result of the mild offshore current. Activity continues almost 24 hours a day in the restaurants and bars that line the sand walkway paralleling southern and central White Beach. During the day, the beach is a perfect spot for relaxing, sunbathing and enjoying sports of all kinds, especially water sports.
Early morning is the best time to take a stroll along this scenic powdery white shore, when there are fewer people. However, even on crowded afternoons a spectacular sunset can make beach combing just as enjoyable. The "Boracay experience" won't be complete without watching the sunset after a full day of activities after all. Yet even after the sunset there are still plenty of beautiful scenes to take in. At deep twilight for example you can witness the nightly migration of giant fruit bats with wingspans of as much as meter, to Panay Island. At night of course White Beach remains a favorite place for the romantic.

---
To return from White Sand Beach to Boracay Beach click here.