Boracay Dining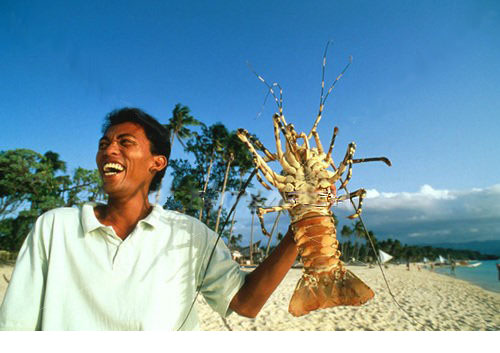 Boracay dining certainly has a lot ot offer in terms of variety and taste. Boracay island has over 200 restaurants and eateries with a wide variety of fresh and delicious food. Restaurants are usually open from 7 or 8 am to around 10 or 11:30 pm. However there are several night spots where on can enjoy a drink or two after dinner.
But if you're looking for local food and/or eateries in the day, the Talipapa, colloquially fish market, and other places around the island called turo-turo eateries provide pre-cooked food and have varieties of fish displayed in glass cases in which one can choose fresh fish by pointing, colloquially, turo. At Puka Shell Beach in Yapak, the pork or chicken, especially the fish is good.
For more varied menus and finer dining, there are also has loads of fine restaurants the island has to offer.
There is the Aria Italian restaurant for example. A well known Boracay restaurant that provides "Cucina Italiana" as it says on the signboard of this restaurant. It has a touch of italianita and a more urban than island design. There are many antipasti, salads, pasta, meats and other dishes, as well as four special set meals each month.
For a more relaxed vibe however, Ariel's House provides a mix of lounge, living room and stylish Boracay dining with air conditioning, comfortable arm chairs. There is even a Foozball machine where customers can play table-football while waiting for a table or cooling off after dessert. It's definitely a good place to just relax chill out after a hot day at the beach. The lemon chicken and the ratatouille are the house specials.
If you're looking for "a pleasurable Asian Chill-out Experience", you won't be disappointed. Bamboo Lounge will give you just that and much more. The place is made mainly of sturdy bamboo and is a trendily styled small restaurant on the beachway. It offers appetizers, dimsum, soups, different vegetables, hot pot soup, roast specialties, seafood and plenty more rich foods in Asian cuisine. Their specialties however, are oriental salad with greens, apples, noodles, fried seaweed and Lotus fried rice.
Of course Boracay dining won't be complete without a restaurant that is open to the beach path. And Paradiso Grill has just that. To complete the island food experience they serve mainly seafood such as clams, crab and prawns straight off the grill with their specialty of mixed seafood Kebab.
---
To return from Boracay Dining to What to do in Boracay click here.